SERBIA
It does not take long for foreign visitors to Serbia to discover the hospitality, kindness, openness and warmth of the country's residents.
Shaking hands, done using the right hand, is customary when being introduced or meeting somebody of either gender. Kissing is not a necessity when meeting somebody for the first time, but every time you meet from then on, if you have developed affection for the person in question, kissing three times on the cheeks is the order of the day in Serbia. Of course, nobody will object if you only kiss once or twice while giving a long and sincere hug.
In Serbia, toasts are usually made with traditional rakija (brandy), often home-distilled. Toasts are made by clinking glasses, making direct eye contact and loudly proclaiming "Živeli!" A speech is usually only made on formal occasions, normally by the host, but a guest may give one, too.
Serbs enjoy rich and flavoursome food and normally have three meals a day, with lunch being the largest.
Paying the bill in restaurants is a big part of the Serbian mentality. The host will almost never allow a guest to pay for lunch, dinner or drinks because it is customary for the host to take care of all expenses while a guest is staying with him or her.
In contrast to the rest of Europe, there is no single day of the week in Serbia when you cannot have a night out and that holds true for all generations, for all lifestyles and musical tastes and for all available budgets. After a wild night out, somewhere around three or four o'clock in the morning, people continue onward in search of grilled meat or burek.
For many useful tips, please continue reading below.
ENTRY REQUIREMENTS / VISAS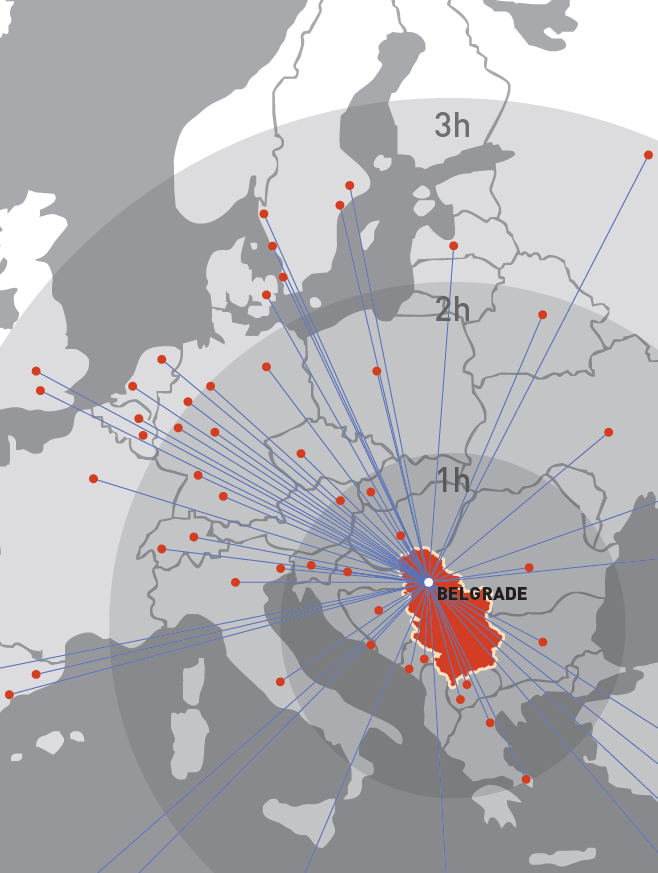 Citizens of the following countries do not need to obtain visas:
– Citizens of European Union countries, Bosnia and Herzegovina, Iceland, Macedonia, Montenegro, Norway and Switzerland may enter the Republic of Serbia using their identity cards and stay up to 90 days.
– Nationals provided they hold a valid passport: Albania, Belarus, Israel, Russian Federation, Turkey and Ukraine. Rest of world: Argentina, Australia, Bolivia, Brazil, Canada, Chile, Costa Rica, Cuba, Japan, Mexico, New Zealand, Republic of Korea, Seychelles, Singapore, Tunisia, United States of America;
– Nationals provided they are holding diplomatic and official passports or ordinary passports indicating they are traveling on business: Armenia, Azerbaijan, China, DPR Korea, Ecuador, Egypt, Georgia, Guinea, Kyrgyzstan, Moldova, Mongolia, Pakistan, Peru, Tajikistan and Turkmenistan.
To obtain visa you need:
– Valid Passport;
– One of the following: a letter of invitation (verified by the appropriate Serbian authority), an invitation from a company for a business visit, a receipt or authorized tourist company certifying that the travel arrangement has been paid (letter of credit or other payment receipt);
– Return ticket;
– Proof of sufficient funds in hard currency and
– Certificate that a health fund shall cover the medical costs in Serbia, if any
For more detail s please visit  http://bit.ly/EntryRequirements
HOW TO GET TO SERBIA / NOVI SAD

Air access
Belgrade International Nikola Tesla Airport represents the main gate to Serbia. It is located 75 kilometers away from Novi Sad and Hotel Park – conference venue, connected with highway. In 2012 it was declared as  one of  the Best Airports in the World by eDreams.
There are 26  airline carriers operating in Belgrade, comprising 19 international carriers, 6 low cost carriers and 1 national carrier. Belgrade has a direct flight connection from 60 European and Middle East ports and cities. Around 370 flights comes in and out of Belgrade every week (see Table on the right for examples). For delegates arriving from outside the Europe, connection flights are usually taken in Vienna (6 times a day / 1h), Frankfurt (4 times a day/ 2h), London (2h), Istanbul ( 3 times a day/ 1.5h), Dubai, Doha and Abu Dhabi (daily /4h).
From Airport to Novi Sad – you can take a transfer organized by Mensa Serbia partners, travel time:  1 hour. Otherwise you can take a taxi (not recommendable), or take a public transport to Belgrade, and then a regular bus Belgrade – Novi Sad at the price of approx. 10 EUR.
Train and Bus access
Novi Sad has regular and direct rail connections with capital cities in Central and Eastern Europe. International passenger trains include a regular day and night train, the 'Avala', that goes through Novi Sad to Budapest, and Vienna.
Located just next to the railway station main bus station offers another convenient option for traveling to congress especially for regional delegates. In addition to all the major cities in Serbia and all the republics of the former Yugoslavia, a network of bus routes covers bus connection to the 15 countries of Europe.
IBD 2015 venue – hotel Park and city center are all 5 min away from main Railway & Bus stations.
In Novi Sad
Hotel Park, the IBD 2015 venue is located just 10 minutes  walking from city center and therefore can easily be reached from every hotel. Average taxi ride to/from the IBD 2015 venue to your hotel would be around 4-5€. Beside taxi service there are the regular network of public transport  – more information can be found here – www.gspns.co.rs
USEFUL INFORMATION
GEOGRAPHIC LOCATION
Southeastern and Central Europe, Balkan Peninsula, Western Balkans
POPULATION
Serbia: 7.320.340
Novi Sad: 341.625
Belgrade (Capital): 1.600.000
AREA
88,509 km2
TIME ZONE
Central European Time, GMT+1
TELEPHONE CALLS
Country code: +381
Novi Sad: (0)21
MOBILE PHONES
– MTS www.mts.telekom.rs
– Telenor www.telenor.co.rs
– VIP Mobile www.vipmobile.rs
All networks are based on GSM 900/1800 standard.
CURRENCY
Serbia's currency is "Dinar" (RSD)
The exchange rate (as of September 2013)
EUR 1.00 = RSD 120
USD 1.00 = RSD 109
TAXES
20% Value Added Tax (VAT)
ELECTRICAL APPLIANCES
Voltage is 220 V. Frequency is 50Hz. 110 volts appliances need a converter and adapter.
TIPPING
It is customary in restaurants and cafes to round up the gratuity fees to the nearest 10% -15% of the bill, depending on service.
CREDIT CARDS
Teller Machines (ATMs) accept all major credit cards and are located throughout the city. Major credit cards are accepted at almost all restaurants and stores in Novi Sad and Serbia.
SHOPS & BANKS
Shopping malls and stores are opened from until 22h. Most banks and post offices are open up to 17h.
FOOD & DRINK
The tap water in Novi Sad is safe to drink. Bottled water is also easily available. Serbia is a producer and exporter of high quality mineral water. Local wine and beer are very good and inexpensive. Imported drinks are also available at most cafes, hotels and restaurants.
A majority of hotels and restaurants offer Serbian national cuisine. Continental European, Italian cuisine, seafood and a selection of ethnic food are readily available. All restaurants offer vegetarian options.
INTERNET
All hotels offer Internet services to guests. A large number of cafes also provide free WI-FI to customers. Serbia's Internet country code is .rs.
CLIMATE
Serbia climate is moderate continental, with four seasons. Summer in Novi Sad is very pleasant with longer sunny and warm periods. Autumn is longer than spring – the so-called Indian summer. The average daily temperature in proposed periods are in range 18°C to 29°C.
OFFICIAL LANGUAGE
Serbian
OFFICIAL SCRIPT
Cyrillic
SOME SERBIAN PHRASES
yes = da [dah]
no = ne [neh]
please = molim [moleem]
thank you = hvala vam [hvahlah vahm]
good morning = dobro jutro [dobro yootro]
good afternoon = dobar dan [dobahr dahn]
good night = laku noc [lahkoo noch]
hello / hi = zdravo [zdrahvo]
good-bye = dovidjenja [doveejehnah]